About Eastside
Expert tree care from Seattle to North Bend
Eastside Tree Works is a family owned and operated tree company providing a wide range of commercial and residential tree services to Seattle, the greater Eastside and North Bend.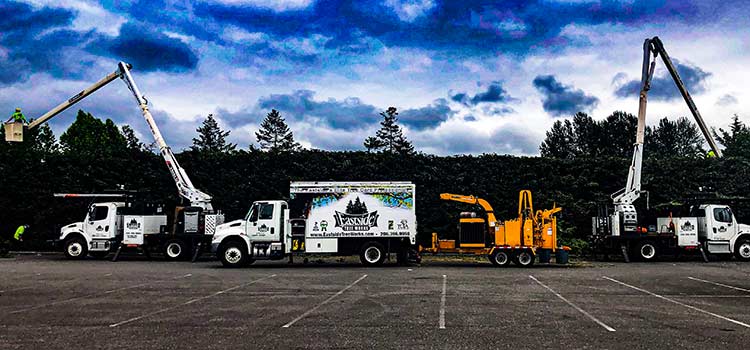 Serving you since 2005
Dedicated to the highest standards in the arboricultural industry, Eastside Tree Works has expanded greatly since Matt Rengo started the business in 2005.
This growth would not be possible without our incredible staff who work to provide safe and affordable tree care to all our customers.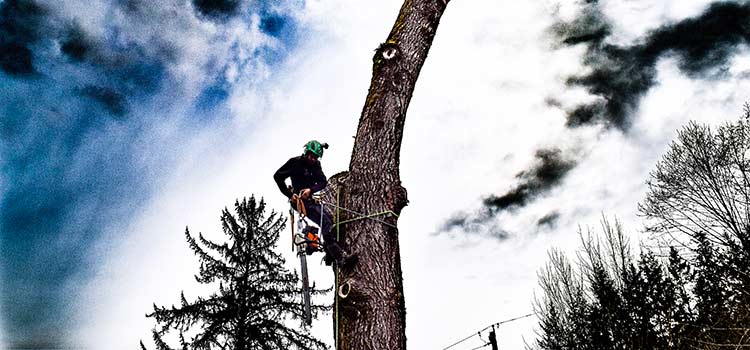 SDOT & SDCI requirements fulfilled
WA State Contractor License
City of Seattle Business License
Certificate of Insurance, with City of Seattle listed as additional insured
Current Annual Equipment permit number(s)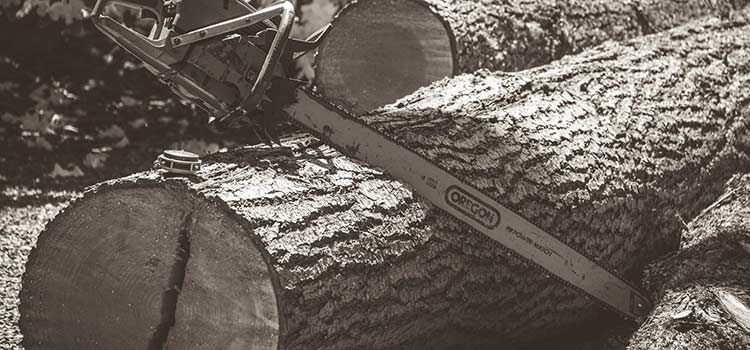 ISA and TCIA accredited
As ISA (International Society of Arboriculture) and TCIA (Tree Care Industry Association) members, ETW stays current on industry approved methods of caring for and removing of trees.
The latest tools and techniques are used with special care taken to ensure no unnecessary damage is done to the surrounding area.
Many of our staff have completed the necessary requirements for accreditations from the ISA and TCIA.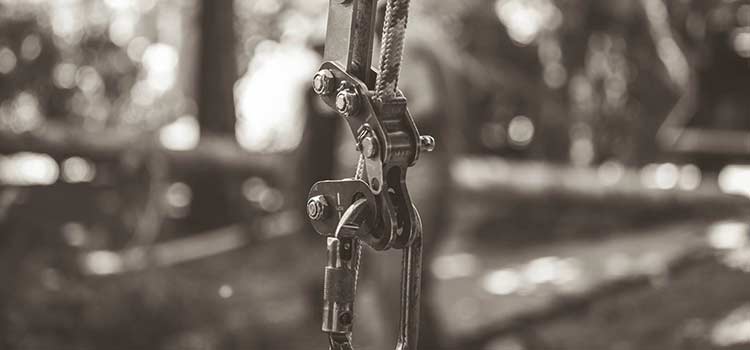 SDOT & SDIC Registered Tree Service Provider
Pruning trees along city streets usually requires a permit and only companies registered with SDOT are issued permits for street tree work.
In order to do ANY tree work in the City of Seattle, you need to be registered as a tree provider with SDCI. Our registration number is LIC-TSP-1849.
All work must be done in accordance with the City of Seattle's guidelines and specifications outlined in the Street Tree Manual. Any pruning and other tree work must also comply with all ANSI 300 standards of tree care.
Meet the Eastside team
Eastside's tree professionals
While these employees meet directly with customers, we have many other credentialed staff who play equally important supporting roles to ensure the smooth flow of operations within our company.
Working together, our entire team is responsible for the exceptional service we deliver to our customers.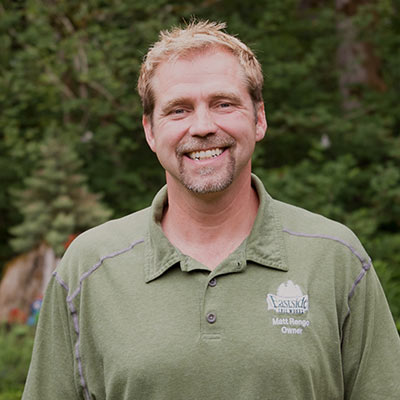 Matthew Rengo
Owner
A native to the Pacific NW, I started Eastside Tree Works in 2005 with the intent of bringing a high-quality tree service to Seattle and its greater Eastside communities.
With over 30 years of experience in the tree and landscaping industries, I use my background to continually improve the services we offer to our customers.
Married with two grown children and two granddaughters, I spend my free time enjoying the outdoors by dirt biking, snowmobiling and camping.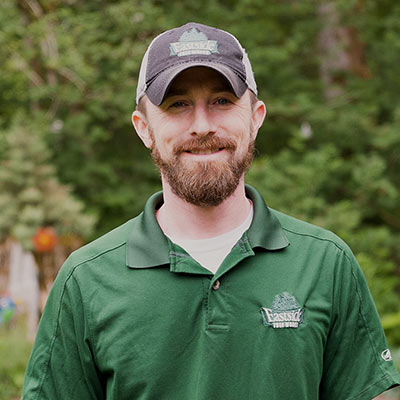 Jory Cuttitte
Executive Administrator
Born in Texas but raised in the Pacific NW, I am the Administrator at Eastside.
My background is in IT and as a Business Growth specialist with 20 years of experience in various small business industries, I began at Eastside in 2009 to help facilitate growth.
Eastside is truly a family business as I'm a brother-in-law to Matt (the owner) and my wife Amanda and brother Curtis also work here.
I'm a husband, father of 4 and USN Veteran who enjoys backpacking, camping and other outdoor activities.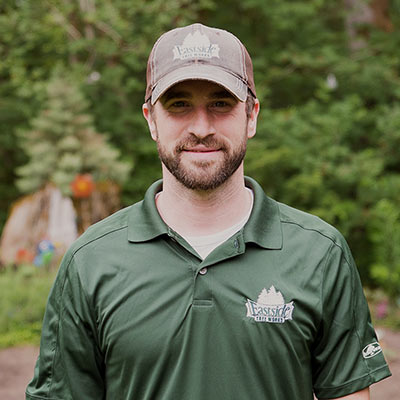 Curtis Cuttitte
General Manager
Born in Texas and raised in the Pacific NW, I started working in landscape construction in 2001.
From maintaining irrigation on golf courses to installing water features, I worked my way up to foreman of residential landscape installation crews. In 2012, I joined my brother Jory, who'd been working at Eastside for years.
I started working on crew, then moved to project management and office assistant before being promoted to General Manager in 2015.
I'm happily married with a dog and enjoy hunting, dirt biking and snowmobiling.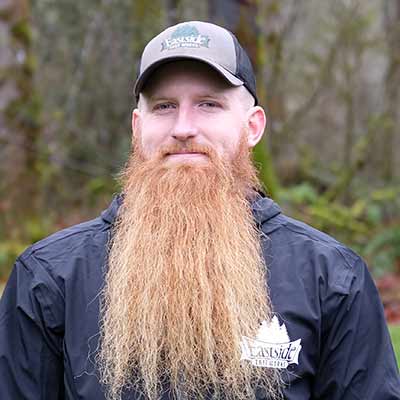 Chad Soptich
Foreman & Certified Arborist
#PN-7549A
Born and raised in Carnation, WA, I started working the ground at a tree service the week after I graduated high school. After a year of learning and loving the work, I studied communications at a community college. Once I returned, I started studying to become a Certified Arborist and achieved this goal in 2013.
In 2019, I joined Eastside and worked as co-lead on the pruning crew, which I thoroughly enjoyed. Near the end of 2021, I became a foreman. My short-term goal is to get my TRAQ and eventually join the project management team.
I enjoy sports, good attitudes, trucks, live music, camping, backpacking etc. I am the 6th of 7 children and have 25 nieces and nephews, whom I love dearly.
Well over a decade of residential tree work and I'm still doing it with a smile on my face. I must be a slow learner, or I'm right where I need to be.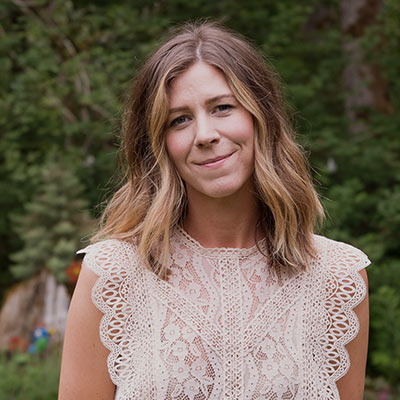 Amanda Cuttitte
Administrative Assistant
I joined ETW in April 2019. As part of this family-owned business; I am Matt's sister, Jory's wife, Curtis' sister-in-law, and aunt to one of our lead arborists Jordan.
As the first and last person interacting with our customers, I have an extensive background in administrative and customer service-related industries that I am happy to bring my skills to ETW as I further my knowledge in Arboriculture.
I enjoy spending time with my husband and 4 teenagers traveling to new places, camping, and hiking throughout the PNW whenever we get the chance.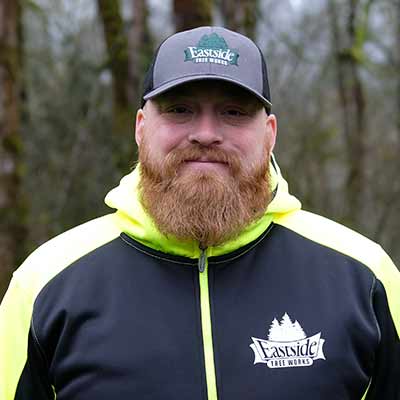 Charles Montgomery
Project Manager & Certified Arborist
#PN-9380A with TRAQ
I started my career in the landscape business and enjoyed that for many years before I transitioned to the restaurant business. After working my way to general manager in a handful of great establishments in the Seattle area, I decided to make a change after I had my first kiddo.
Wanting to spend more time with my family, I transitioned to sales management in the wine and spirit business. After the pandemic shut down most restaurants, I found myself at a crossroads professionally, and was exploring my options.
After having some extensive tree work done at my personal residence by Eastside, I knew I wanted to be involved! I jumped at the chance to learn the business from the ground up and earn my arborist certification.
I am passionate about helping people and being present in my community and this job allows me to do just that.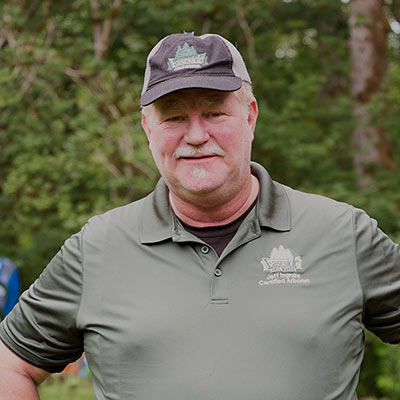 Jeff Ingmire
Project Manager & Certified Arborist
#PN-7640A with TRAQ
Born a Hoosier, I joined the U.S. Marine Corps and worked in Sales and as a Construction Superintendent before joining Eastside, the best tree company around.
I studied to become a Certified Arborist with a Tree Risk Assessment Qualification and have also added Project Management to my job title at Eastside.
In my free time, I enjoy spending time with my family: my wife of 26 years, our three children and one grandson.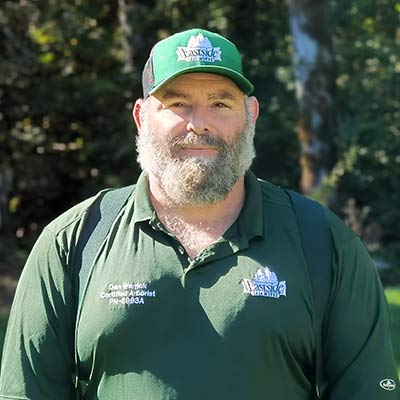 Dan Warrick
Project Manager & Certified Arborist
#PN-8993A
I started doing tree work in 1998 as a logger for a small company, which I greatly enjoyed. In 2002, I started framing houses and was in the construction industry for 13 years.
In 2016, I went back to tree work. While starting out dragging brush as a groundsman, I was rapidly promoted to performing a large range of tasks including stump grinding and equipment repairs.
In 2017, I became a project manager and have only become more qualified with each passing year. In March of 2020, I became a certified arborist and am working on my TRAQ.
In my free time, I like to fish and mill wood, which I use to improve the appearance of my home. Most of all, I love working at Eastside Tree Works for the true love the team has for tree work.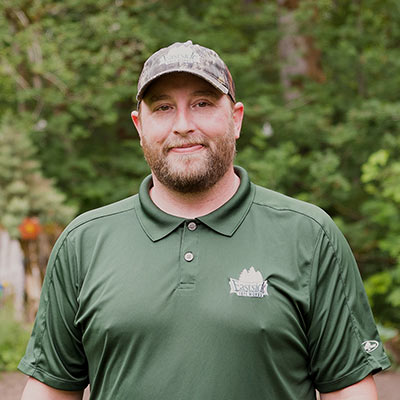 Jeff Warrick
Project Manager & Certified Arborist
#PN-8788A with TRAQ
I worked as a foreman for a custom home builder for five years prior to my start in the tree service industry as a groundsman in 2008.
In 2010, I became Crew Foreman and have been involved in thousands of jobs over the years. I started doing sales in 2014 and soon after added job scheduling and crew management to my job titles.
I am now a Certified Arborist with a Tree Risk Assessment Qualification. My hobbies are anything having to do with my wife and four boys, which is why I volunteer as an assistant wrestling coach for my boys' youth wrestling club and coached their baseball teams.
I also enjoy working around my home and property and taking trips with my family.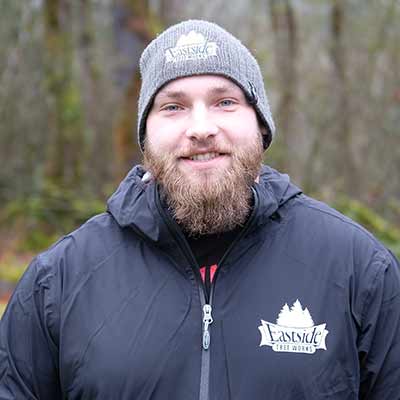 Jesse Sherrill
Foreman & Line Clearance Certified
I have been doing tree work for almost a decade. I originally got into trees because it's been in my family forever. My grandfather was a logger. My dad has been doing tree work for 26 years.
I love working at Eastside Tree Works. Management has been extremely helpful. My crew is full of great people.
Now that I am a foreman, I've been able to teach and pass down more of my skills to others. Also, nothing can beat the views we get to see every day. So far with this company, I've gotten a class B CDL, ACRT line clearance, first aid and CPR training.
I spend most of my free time with my family. We have 4 children, the smallest being 1 and 2 years old. When time and weather permits, I like fishing, camping, shooting ranges, river rafting, snowboarding, riding dirt bikes, and watching movies.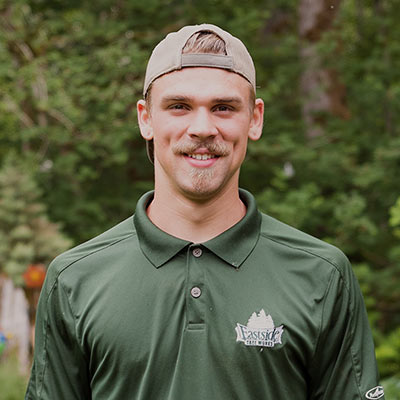 Jordan Blonski
Certified Arborist
#PN-8610A with TRAQ,
Line Clearance Certified,
Master Gardener & Fine Pruning Specialist
I was born and raised in Washington state. Always passionate about the outdoors, I was drawn to tree work so becoming a Certified Arborist with TRAQ certification was the natural thing to do.
I've also become a Master Gardener with a specialty area in fine pruning and became Line Clearance Certified. Whether it be hiking or gardening, you will likely find me among plants.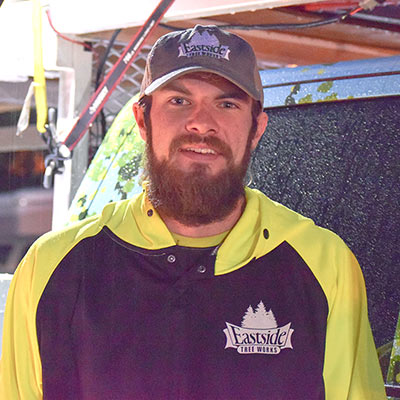 Kent Rankin
Foreman and Line Clearance Certified
My love for heights started when I was a kid who climbed everything.
I graduated from the University of North Carolina with a degree in Environmental Science and got an entry level office job, which I soon realized was not for me.
In 2014, I started as a groundsman with aspirations to become a climber. By 2017 I was a foreman and while I loved my job, a trip to Washington state made me see it was a better place for tree work.
I joined Eastside in January of 2018 and was immediately impressed with the professional atmosphere.
I recently became Line Clearance Certified and look forward to refining my skills here for many years to come.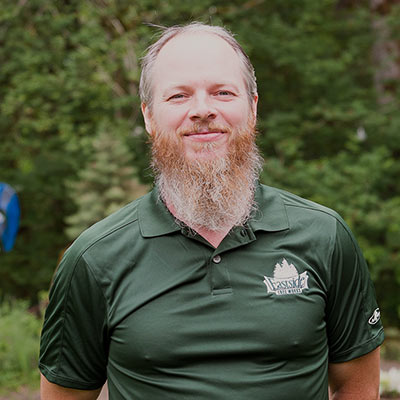 Scott Goodrich
Foreman and Line Clearance Certified
I worked in the landscaping field for seven years prior to starting at Eastside in 2012.
My job titles at Eastside include Crane Specialist and Foreman and recently completed training to be Line Clearance Certified.
I'm a proud father of a baby boy and in my spare time I enjoy hiking, scuba diving and have even climbed Mt. Rainier.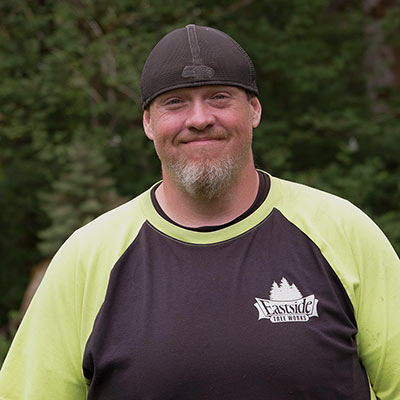 Brian Tremlin
CCO Certified Crane Operator
#2209226939
I have lived in the Pacific northwest for 38 years and call North Bend home. I've worked at Eastside since 2014, starting off as a ground guy and worked my way up to lead ground.
My current job title of Crane Operator is somewhat unique in the residential tree industry. I feel incredibly proud and blessed to come into work every day.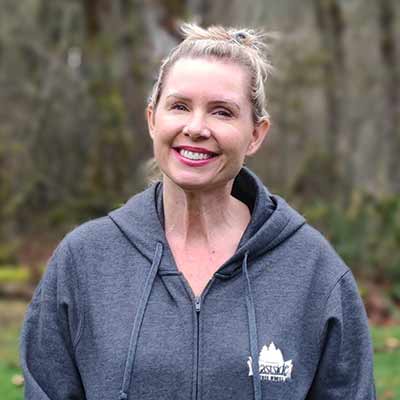 Britta Vracko
Administrative Assistant
I am an Administrative Assistant at Eastside Tree Works. I am so glad to have a career that supports my love for customer service and community.
In my free time, I enjoy walking through the beautiful northwest, spending time with my husband and daughter, reading, and watching movies.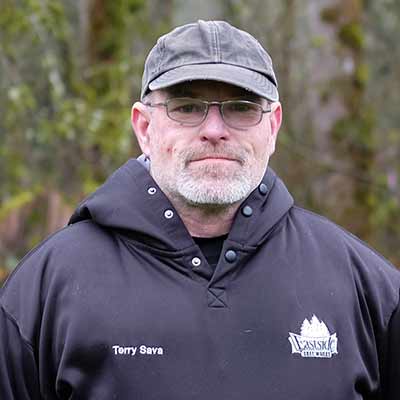 Terry Sava
Stump Grinding, Repair Technician, Equipment Operator
I have worked for Eastside Tree Works for the last 6 years. I primarily lead the log hauling crew, but due to my extensive knowledge in landscaping, electrical/irrigation repair, and mechanical repair, I also perform many peripheral jobs for ETW.
This includes property maintenance and running Eastside's material-handling equipment.
In my spare time, I enjoy rebuilding cars and small engines, fishing, and riding my motorcycles.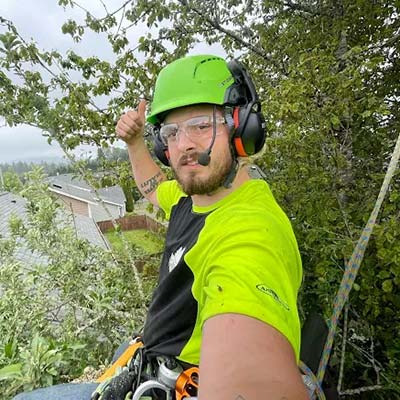 National Evans
Co-lead and Shop Manager. Line Clearance Certified
I got into tree work watching YouTube videos and have been in the field for almost 3 years now.  I've never worked in a field so wildly expansive from climbing gear to felling trees to forest conservation.
I love the work, the tools, the teamwork. Eastside is like family. I feel honored to be banded with like-minded professionals that really care about each other. It's unique and special in such a 'macho' field.
I'm a huge music nerd, be it making music or just listening to music. I also enjoy finding vintage clothing. Old wool garments are fascinating and tell stories!
Complacency kills. There's no reason to stay quiet about feeling scared or proud while working in an insanely dangerous field.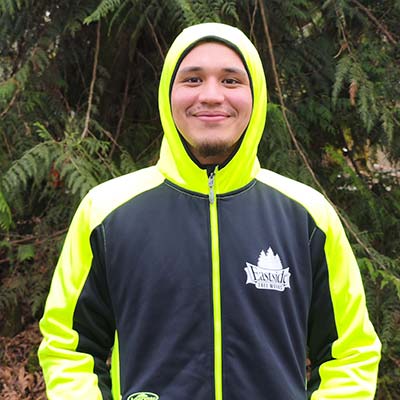 Nicolas Nordstrom
Co-lead
Born a military kid in Japan, we moved a lot during my early years and eventually landed in WA state. I've worked in the food service industry and construction.
When I Iost my job during Covid, I explored different industries ultimately landed at Eastside Tree Works where I quickly figured out that I love the work and challenges offered in the tree industry.
In my spare time, I enjoy hiking, video games, and most things outdoors. I hope to continue my career in the tree industry at Eastside and am dedicated to learning more about trees every day.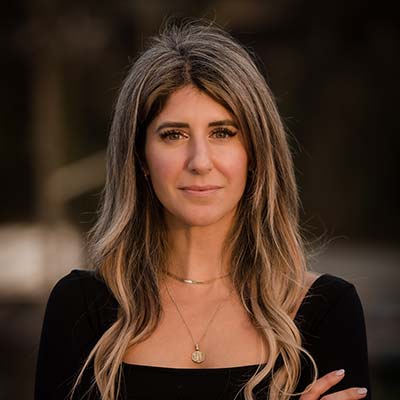 Sheila Allen
Social Media Manager
I joined Eastside Tree Works in 2022 to assist with social media. It is a perfect combination of my love of nature and passion for digital marketing. Joining Eastside Tree Works was a natural and easy choice because I align with their company values, their dedication to their customers is unmatched, and I respect their focus on preserving and maintaining our beautiful trees.
I currently live in Bellevue, WA with my husband, our two teenagers, two pit bulls and a rescue chihuahua. I am originally from the East Coast, but I moved to the Pacific Northwest in 2002, saw the beauty first-hand, and never looked back!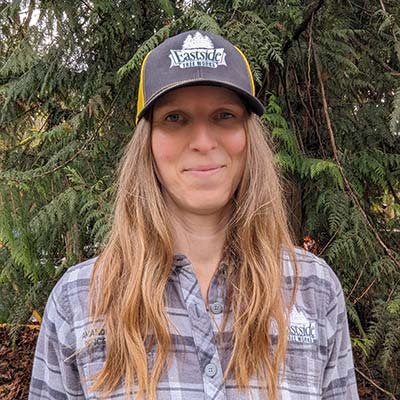 Beth Lang
Special Project Manager, Milling, Farm Development
I feel lucky to be able to mill custom locally grown lumber with my husband Iaian.  We love our ability to repurpose the urban grown trees into projects such as arbors, decking, and garden sheds. Not long ago I led teams writing software for Law Enforcement and the DOD.
I work on administrative projects at Eastside with my brother Matt, sister Amanda, and brother-in-law Jory to improve our ability to better serve our customers. Our family has lived in Washington for seven generations, and this makes me proud to be part of a family-owned company in Washington.
You will almost always find me among my small pack of herding dogs. I enjoy training sheep herding and agility dogs, hiking, camping, and archery. Iaian and I raise cows, pigs, and ducks at Eastside Tree Works headquarters to help supply our families with locally and sustainably raised meat.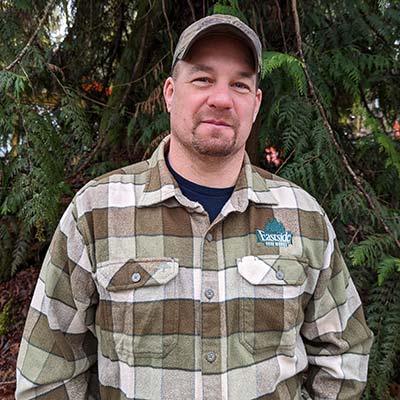 Iaian Lang
Fleet and Farm Development, Lumber Processing
I am a native Texan.  I have experience in structural welding working on the Hood Canal Bridge, Bertha Tunnel, and seismic retrofitting of the SeaTac Airport Parking Garage. In my younger years, I enjoyed framing houses in Texas, Illinois, and Washington.
At Eastside, I customize trucks and equipment to make us more efficient to better serve our customers and operate heavy equipment, splitting wood, picking up logs, or custom milling lumber with my wife Beth.
I am a proud Veteran of the US Army. In my off time, I enjoy Krav Maga, bow hunting and target shooting, hiking, and camping.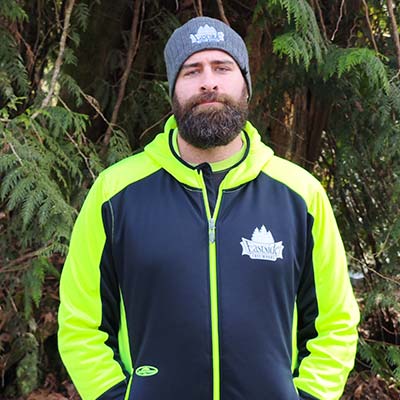 Will Kaut
Fleet/Equipment Manager
CCO Certified Crane Operator
#2209226937
I originally started with trees getting firewood with my father as a kid. Later a friend let me try his climbing gear and immediately enjoyed the adrenaline rush and thrill. I started climbing for fun in my spare time.
I eventually decided to try tree work. As the fleet and equipment manager, I enjoy the organization here at ETW - as well as the variety of daily projects. There is never a dull moment as every project is new and exciting, while still being within the same line of work.
Outside of work I enjoy overlanding in my Jeep, exploring the PNW trails and logging roads, as well as camping.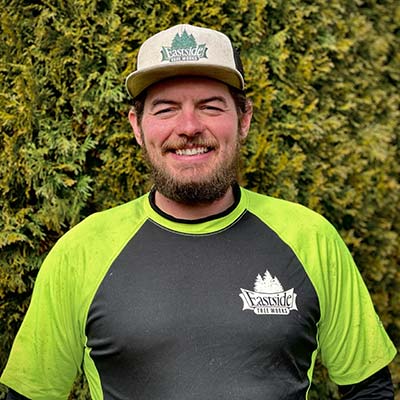 Tyler Puckett
Safety Coordinator
Certified Arborist #PN-8873A
I started my career in arboriculture in 2013 and later learned to climb big trees. My career has taken me across the country working in many different states with all kinds of people.
I completed my arborist certification in 2019 and started my goal of becoming a safety coordinator spending 5 years with another company helping with their safety program.
I joined ETW in September 2021 to be closer to home and work with a more family-type business. Currently the safety coordinator at ETW, I enjoy sharing my knowledge and techniques with others.
I'm working on my CTSP certification and plan to continue my education. When not climbing or teaching the skill of our trade, you can find me mountain biking, riding dirt bikes, and enjoying off road van adventures.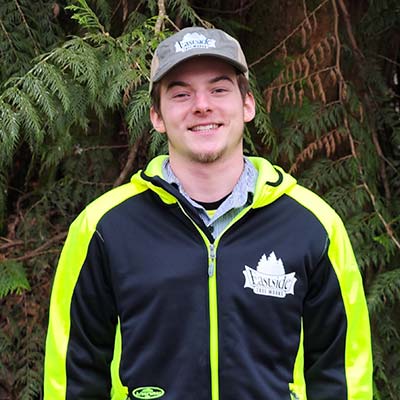 Sam Smart
Lead Climber
Certified Arborist #PN-9574A
Line Clearance Certified
Originally from Enumclaw, I moved to South Carolina after high school to start a golf cart business with my dad.  After moving back to Washington, I did construction for a few years when I saw a climber doing tree work and decided that was something I wanted to try.
With 3+ years in the industry, I am now a Certified Arborist, and Line Clearance Certified. In my spare time, I enjoy recreational climbing and hanging out with friends and family.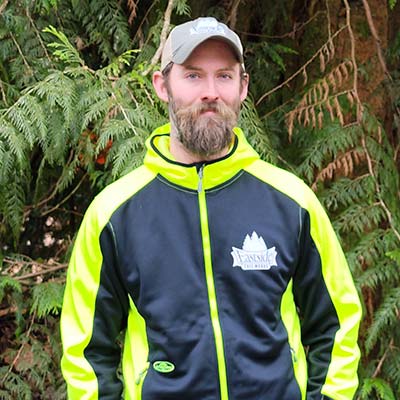 Jordan Bullock
Crew Foreman
Raised in the Snoqualmie Valley, I grew up in North Bend playing music, lifting weights and skateboarding. Before Eastside, I worked various odd jobs... from being a deckhand on a tugboat to managing a local gun shop.
A change in occupation came when I needed it most. A family friend and old school timber faller inspired me to learn how to climb and cut trees.
A good buddy ended up referring me to Eastside Tree Works. Since I have always enjoyed working hard and the outdoors, I decided to go for it. It's been one of the best decisions I've ever made.
I am eternally grateful to have apprenticed under Jed Walters during my time here. His friendship and wealth of knowledge changed my life.
The 4-legged team
The dogs of Eastside Tree Works